---
Christ Pantocrator, Palladion of the Monastery of Sinai
A sixth century icon painted with the encaustic technique, depicting Christ with the two natures, divine and human, in his face
During a scholarly mission to Sinai in 1938 the pioneering Greek Byzantine art historians Georgio and Maria Sotiriou encountered the wealth, range, and consequent importance of the collection of portable icons of the Monastery of Sinai that had been, until that time, only considered in part.
Their studies were published in 1956 and 1958, revealing to the international scholarly community an unknown treasure, which together with the other inherited objects of the monastery, have rightly been called "a compendium of Byzantium."
Among the works included in that edition the Sotirious particularly pointed to the icon of the Christ Pantocrator which was originally dated to the thirteenth century, but with the proviso that it might be an older icon with subsequent overpainting. A few years later, in 1962, Tasos Margaritof, a conservator of the Byzantine Museum in Athens, taking part in a new mission under Manolis Hatzidakis, examined and cleaned the icon and revealed a crowning work of early Christian art executed in the encaustic technique, which has since become known throughout the world.
The origin of the icon remains unknown, although many art historians associate it with the art of Constantinople. They date it to the sixth century, and associate it with the icon of the Lord enshrined over the Bronze Gate, that is, the main entrance of the Sacred Palace of the capital of Byzantium. There is strong evidence that later Byzantine icons of the monastery were copied from this, which seems to indicate the importance placed on the icon of the Lord in the life of the monastic community of Sinai.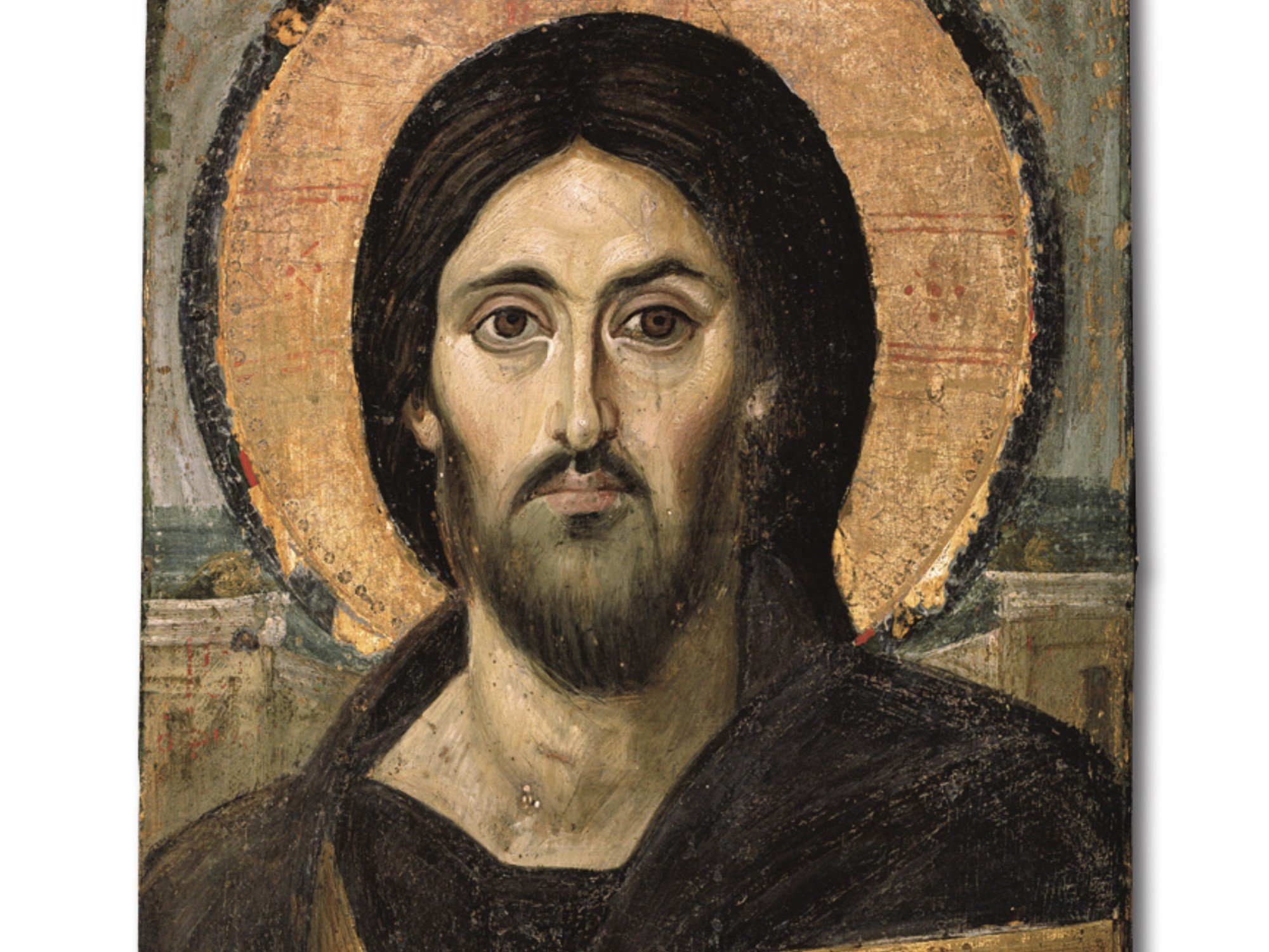 The Monastery of Sinai, Katholikon, Apse of the chapel of Saint Iakovos Adelphotheos (Saint James the brother of the Lord). The Mother of God of the Bush among hierarchs, thirteenth century. Archive of the Monastery of Sinai, HJ
In any case, the expression of the Lord's face has been rendered in the finest pictorial and stylistic manner of Late Antiquity, predominantly in the famous "double gaze," a technique already known in the earlier Fayum portraits. This double gaze of the depicted Lord, while being at the same time both austere and compassionate, has been the subject of many interpretations. That is, it has been considered that this was a conscious choice of the iconographer, in order to depict the Lord, the Ruler of All, as a just Judge, and at the same time as a philanthropic Saviour, or even to indicate the union of the two natures, divine and human, in his countenance. Although it is not clear whether this was really the intention of the artist himself or his spiritual guide, no one denies that he has conveyed a depiction of the person of the God-man as such, giving us the opportunity to approach and understand it in our own way, in keeping with our ecclesiastical interpretive background.
Thus, at the dawn of the twenty-first century, the icon of Christ Pantocrator of Sinai enjoys not only a world wide admiration for its artistic value and inner spirit, but above all, the reverence of Christians. It is no coincidence that copies of it adorn countless humble iconostasia of monks and believing lay people around the world. AD